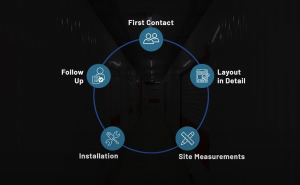 The FEDESSA conference and trade show 2022 the trade show will take place on 27 and 28 September this year. This is the biggest self-storage mafucturer trade show outside the USA with an impressive range of industry suppliers ready to showcase their products and services. It is this is the place to network with hundreds of other self-storage investors, operators and owners.
CSC Industries – Self storage manufacturer will attend as Gold sponsor, more specifically we will be the sponsor of the breakfast with the stars event. We will start a discussion on the topic of project management throughout a self-storage project. Besides our product range and innovations, this year's emphasis will be on how to guide and assist a client during the self-storage process. We have implemented a few phases at CSC to make sure that everything runs as smoothly as possible from the initial contact to the delivery of the finished facility.
We may have prepared a unique experience to share this message with you. So be sure to visit our stand!